Blount Boats Delivers Architectural Tour Boat for Chicago, Illinois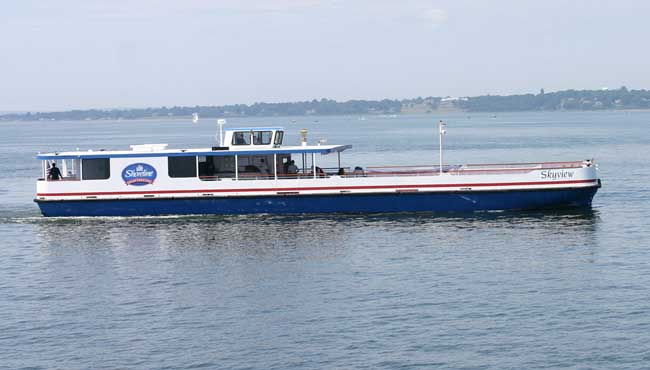 Warren, R.I. (July 2016) – Blount Boats of Warren, Rhode Island delivers the M/V Skyview to Shoreline Sightseeing, Chicago. With a LOA of 100' and maximum beam of 35' the steel, Subchapter K passenger vessel designed by Seacraft Design, LLC is certified to carry up to 318 passengers and will operate as an architectural tour boat in partially protected waters.
The vessel is powered by twin Volvo D13 MH, 400hp diesels with twin 65 kW John Deere generators, ZF W325 gearboxes, 2.933:1 ratio supplied and commissioned by Allemand Industries, Harvey, LA. The vessel is also equipped with twin 44" diameter, 4-blade propellers and Kobelt Steering.
The vessel was specifically designed with a recessed pilot house to meet the air draft requirements for navigating the waterways of Chicago. Special features include hand-crafted mahogany doors, railings and bench seating, full-service bar, 20-keg beer cooler, ladies and men's heads (heated), 430 pound ice machine and air-conditioning.
The M/V Skyview marks the second vessel built by Blount for Shoreline Sightseeing.